Panel
Panel members are recognised voices in the design economy sourced from leading studios, industry bodies and design commissioners. The panel members curate nominations, rate programs, contribute content and provide advocacy.
The panel is broad based as the programs cover multiple markets and design areas. Additional panel members are appointed throughout the year to provide specialised input and ensure diversity. Our reachout is driven through the advocacy of the programs by the panel. Panel members do this though mentioning the awards via social media, advocating to partners and speaking about the awards at forums or during private conversations.
Mark Bergin - Experience Design

Founder & CEO, DRIVENxDESIGN
Courage is the root of all creative projects, courage of the sponsor, courage of the project team and courage of the creative team. design100 celebrates courage through 11 design awards programs. All programs are marketplace centric and offer an opportunity to recognise those that are defining tomorrow. When I'm not advocating or celebrating design, I work as an adviser to projects on the client side, providing expert input on how to structure projects, develop creative ideas and engage the best of market suppliers to deliver exceptional project outcomes. At the heart of my work is a focus on experience design. Always with one simple question - are we making something that is Made for People? Specialties: creative direction, experience design, project guidance, project direction
top
Caroline Collett - PR & marketing for creative industries

Founder, Caroline Collett PR Ltd
Caroline Collett is one of the UK's leading creative industries' publicists and media strategists. She specialises in turning companies - most often design and architecture studios - into brands, adding the requisite three-dimensionality associated with strong and enduring identities - from personality and individuality to a set of recognisable values, standards, ideas and achievements. After five years as a television journalist and director, Caroline started working in design in 1993 as the PR Director of Fitch worldwide (under the direction of the charismatic design visionary Rodney Fitch) and has since represented some of the biggest and most creative names in the field - Seymourpowell, Brinkworth, MET Studio, SHH, EDGE and Blacksheep. Caroline - an Oxford University MA - is also a leading copywriter and has turned her skills to name generation for products and venues, as well as copy for brochures, newsletters, articles, speeches and award-winning websites.
top
Grant Davidson

Managing Director, Davidson Branding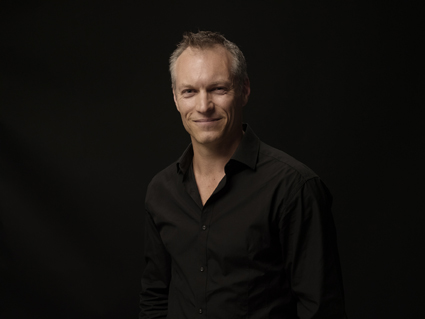 Graduating from Swinburne International School of Design in 1989, Grant has pursued his love for ideas beginning his career as an Art Director at Ogilvy & Mather. It was there that Grant was presented with the opportunity to accelerate his skills in strategic and creative thinking. After a couple of years of intensive training, a desire to revel in the detail and craftsmanship of design and an entrepreneurial attitude; Grant saw the opportunity to form his own business which brought these disciplines together: strategy, creative thinking and craftsmanship – a vision that combined the best of all worlds. Over the past 20 years Grant has built a multi-award winning branding business, attracting some of the best talent from around the country and across the globe. A self-confessed knowledge junkie, Grant is passionate about acquiring and sharing knowledge. As such Grant is an esteemed lecturer at RMIT, Swinburne, Victoria University and the Australian Federation of Advertising as well as being sought after for numerous speaking engagements as a guest speaker. Grant loves the industry and has a strong desire to see it develop and prosper – a desire that drove him to become Vice President of the Melbourne Advertising and Design Club in 2003. His efforts were recognized with an honorary life membership and Grant now looks forward to being apart of influential initiatives that will continue assist this industry in the future.
top
Calypso Harland

CEO & Founder, The Developer Lab
About DevLab DevLab provides access to the latest devices for testing and exploring. Based at IDEALondon in Shoreditch, it is now the largest open device lab in London and will soon be rolling out a device rental programme across the UK and then subsequently Europe. DevLab also run events designed to connect the startup and developer community with brands to drive new channels of innovation. thedeveloperlab.com | Follow us on Twitter @thedeveloperlab Calypso Harland, CEO and Founder, DevLab Founder of DevLab, Calypso has been working in tech since 98, from the network layer to the application layer. She's helped drive two acquisitions to date, Streaming Media for $100M in 2000 and Geo for £65M in 2008. She's worked intensively with the developer community since 2011, firstly heading up global marketing at leading mobile software company Marmalade and then with AngelHack, whereas Global Marketing Director, she was in charge of promoting the world's largest series of hackathons across 32 countries. She started DevLab in 2013, quickly establishing the largest device lab in London and in May 2014 successfully launched a new technology event called DevLab LIVE. calypso@thedeveloperlab.com | Follow on Twitter @calypsoharland
top
David Keech

Managing Director, Keechdesign UK Ltd
David Keech is founder of Keechdesign, whose multidisciplinary approach reflects his interests in industrial design, architecture, furniture and environments. He graduated from the Royal College of Art in 1989. David was the first non-Japanese designer to join Yamaha's creative team in Hamamatsu and produced a number of ground-breaking designs in their music equipment and consumer product sectors. He was a key force in the internationalisation of Yamaha's design team. Before working in Japan, David was an Associate at Foster & Partners, joining as a member of the Bilbao Metro project team. He was one of the founder members of F&P's in-house product design team, gaining deep experience in architecture, product design and project management. He also worked on several personal projects for Norman Foster, for both his private use and bespoke development. David is also a Senior Visiting Tutor and Project Leader on the Innovation Design Engineering course at the Royal College of Art, a visiting Project Leader at KLC School of Design. He is passionate about design, art, technology, making and manufacturing.
top
With a track record of 28 successful years in interior design, Julia has worked on shows such as DIY SOS, Daybreak and The Alan Titchmarsh Show, and written regular columns for magazines. She's delighted to be back on the 60MM team - where her TV career began - and is determined to teach Peter Andre a few DIY skills! Julia has trained in all areas of design, and on her mission to encourage women to have more confidence with DIY is currently writing a book aimed specifically at them. Always budget conscious and looking to recycle, Julia runs interior design and upcycling courses where you can learn these skills for yourself.
top
William Knight

Show Director, 100% Design & Clerkenwell Design
William Knight is a design campign director currently running the UK's biggest contemporary design trade event, 100% Design (September) and one of Europe's most vibrant design festivals; Clerkenwell Design Week (May).William has spent eight years establishing the London Design Festival as one of the world's most important design events. William is able to deliver both practical and strategic approaches to a the a spectrum of challenges and opportunities. Communication led partnerships have helped him develop a series of new initiatives across the UK design industry, with a commitment to excellence and innovation, and the preservation of good ideas.
top
Brendan Lewis

Managing Director, London & Partners

Brendan Lewis has setup greenfield professional services businesses around the globe – Investing in South Korea, Vietnam, Indonesia, Hong Kong and Romania. He also has extensive commercial experience in the UK & the US. His background includes qualifications in accounting and IT and his industry experience includes; Oil & Gas, ICT, Product Distribution, Engineering, Internet & Advertising. Well known for his commercial insight and extraordinary network, he also chairs the Churchill Club in Melbourne and runs Ministerial Dinners. As the sole representative of London in Australia for investment attraction, he personally generates up to 46 new investment projects per annum.
top
Andrew Tarver is the London-based founder and CEO of BOLDROCKET, a venture that is focused wholly on the needs of the end customer. BOLDROCKET is already working with a number of high profile clients to drive forward their end customer strategy, using new disruptive technologies, in partnership with the start-up community.
top
Jordan Waid

VP, Experience Design International, Freeman XP
Jordan's passion lies in creating compelling stories and satisfying the need to invent everything – new scenarios, new concepts, new rules, and new ways of thinking. His unique background of architecture, digital media, and film allows him to constantly challenge experiential communication models with fresh ideas that engage at all levels for some of the biggest brands on the planet. An inspired thought leader, Jordan's creative vision, insight, and conceptual thinking starts and ends with a user-centric approach.
top
Adrian is founder of Special Projects, a design and invention studio based in London, and previously ran the award winning design studio, Vitamins. Adrian uses technology to make magic. His backgrounds in Electronic Engineering and Industrial Design combined with the fact that he is a full member of the Magic Circle help him to understands how things work, and how they will work in the future while at the same time keeping a strong focus on interaction and experience. Adrian was made the first ever James Dyson Fellow in 2007, and was made a fellow of the Royal Commission of 1851 in 2010 for his work on gesture based interactive lighting systems. He has worked as a technology consultant for creative collective Greyworld and the BBC, as well as for consumer electronics brands including Samsung, Nokia and BlackBerry, work which has taken him everywhere from Seoul to Vermont to Vienna – always with a pack of cards in his back pocket. He is currently developing a computer vision based Calendar made of entirely out of Lego, and teaching Magic and Design workshops worldwide.
top
Susan Worthman

Director & Lead Facultry (Leading by Design Fellows Program), California College of the Arts
Susan Worthman is a sustainable-systems strategist, writer, researcher, and policy advocate. She consults with businesses and public agencies, helping to accelerate shifts to sustainable systems and practices within their core operations. Much of her current work and research centers on the big, gnarly question of what success and growth look like in a post-consumerism society -- and by what and whose measure this is determined.
top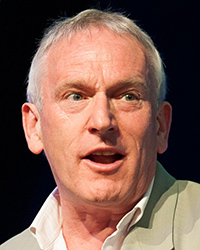 James Woudhuysen is Professor of Forecasting and Innovation at De Montfort University, Leicester. 'Woudhuysen predicts a Britain 12 years hence in which new homes are designed, manufactured and built in much the same way that cars are now.' His formation was in the 1960s and early 1970s, before the end of the Vietnam War. Inspired by the Space Race, he wanted to be an astronaut – so he decided to read physics at university. Jame went to Sussex, where he followed his degree with an MA at the Science Policy Research Unit. After that he pursued journalism, before going on to coordinate postgraduate studies at what is now London's University of the Arts. For more than 20 years since that time, James has consulted for major corporations and for government.
top