Panel
Panel members are recognised voices in the design economy sourced from leading studios, industry bodies and design commissioners. The panel members curate nominations, rate programs, contribute content and provide advocacy.
The panel is broad based as the programs cover multiple markets and design areas. Additional panel members are appointed throughout the year to provide specialised input and ensure diversity. Our reachout is driven through the advocacy of the programs by the panel. Panel members do this though mentioning the awards via social media, advocating to partners and speaking about the awards at forums or during private conversations.
Mark Bergin - Experience Design

Founder & CEO, DRIVENxDESIGN
Courage is the root of all creative projects, courage of the sponsor, courage of the project team and courage of the creative team. design100 celebrates courage through 11 design awards programs. All programs are marketplace centric and offer an opportunity to recognise those that are defining tomorrow. When I'm not advocating or celebrating design, I work as an adviser to projects on the client side, providing expert input on how to structure projects, develop creative ideas and engage the best of market suppliers to deliver exceptional project outcomes. At the heart of my work is a focus on experience design. Always with one simple question - are we making something that is Made for People? Specialties: creative direction, experience design, project guidance, project direction
top
Andrew Birt is an entrepreneur and Startup founder, focused on consumer electronics and health technology. He Founded WiFi lighting company LIFX and grew from concept to $20M+ in funding, and a distribution network in over 15 countries. Andrew, through Owl Ventures, now works with early stage IoT companies on product and business development.
top
Founder of a handful of startups, a strong entrepreneurial spirit is the backbone of my motivation for brands and strategy. Co-leading the DT Strategy team and continuing the success for clients by identifying new commercial opportunities and helping solve their operational problems to date. Together, with the clever people around me, I have helped guide Australia's largest businesses in developing their strategic roadmaps across all verticals and touch-points to get back to their purpose. A belief that a deep and passionate understanding in all elements that comprise the digital creative and commercial process is perpetual; we are not marketing brands via digital, but instead distilling brand stories to an increasingly connected and digital world.
top
Kirsten Mann

Director of Customer / User Experience (UX), Aconex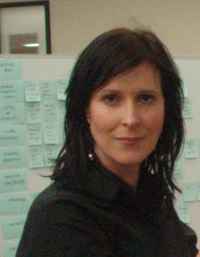 As Director of Customer / User Experience at Aconex, Kirsten and her team are dedicated to cultivating an increasingly engaging and satisfying user experience within the Aconex platform; the most widely-used online collaboration platform in the world for construction, infrastructure, energy and resource projects. Aconex has helped thousands of companies to manage project information and processes to the highest standard and Kirsten's team helped design the experiences that support these processes.
top
Harriet Wakelam

Director Human Centred Design, IAG
I am a design strategist with experience across financial services, Fintech, insurance and health. Given that titles are meaningless…this means that I like to design better ways for humans to experience services that improve their lives and improve the business bottom line. I use design to transform the experiences customers use, using the tools, skill and mindset appropriate to enable organisational alignment and change. I am driven by the development of purposeful services whether in health, financial services or communications through the development of outcomes not outputs.
top