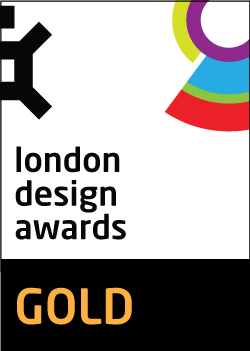 Project Overview
Handcrafted. Contemporary. Unique. British.
I create bespoke sculptural lighting from my studio in Royal Leamington Spa. Each piece is made to order and as such all are unique and individual. I work carefully with clients to identify aesthetic and practical requirements to achieve visually striking, engaging, functional statement pieces and additions for interiors, both home and commercial.

Organisation
Project Brief
I created 'Matrix' the composite material I use to produce my designs during a 6 week period of playing with and testing a variety of mediums and textiles during my final year studying Textile Design at Birmingham University of Art and Design. I then developed the material further to create a statement lampshade which was commissioned for display on the Global Colour Research/BIAD stand at the Interiors Show NEC 2014. The Matrix material and the resulting work, which is constantly evolving, reflects my thoughtful consideration for colour, form and contemporary design.
Inspired by the spectacular skylines and architecture of New York and Dubai, the Matrix collection conveys a LoFi, modern, sophisticated aesthetic, marrying compelling style with refreshing simplicity. When lit up the lighting casts an arrangement of absorbing and captivating illuminations and shadows on the surrounding environment, creating a relaxing, engaging and almost hypnotic atmosphere, when unlit subtle hints of colour make the pieces sculptural in themselves.
Nothing speaks more than a maker's method. For some it starts with an idea in a coffee shop, others it's the complex mix of tools, materials and craft. The projects that will shine here will be strong in new methods, strong in craft and most likely to generate lots of ''how did you do that'' discussion. Your project will fall into one of the following markets: Domestic - Domestic Maker projects represent the consumer connecting with a unique piece, be it a tool for home, an artefact or a practical item to assist with a regular home function. Community - Community Maker projects represent the community connecting with your project. It might be an item to create a mood, a learning device to help advance your community or a practical item to assist with a community function. Commercial - Commercial Maker projects find their way into corporate and government environments, sometimes as highly functional low production runs, other times as one off custom items designed specifically for task. Projects that show the maker's skill, courage and design insights will shine here.
More Details