Panel
Panel members are recognised voices in the design economy sourced from leading studios, industry bodies and design commissioners. The panel members curate nominations, rate programs, contribute content and provide advocacy.
The panel is broad based as the programs cover multiple markets and design areas. Additional panel members are appointed throughout the year to provide specialised input and ensure diversity. Our reachout is driven through the advocacy of the programs by the panel. Panel members do this though mentioning the awards via social media, advocating to partners and speaking about the awards at forums or during private conversations.
Jason Balls

Design Director, EPR Architects
Jason Balls is the Design Director at award-winning practice EPR Architects with over 15 years' experience as a Chartered Architect (RIBA) specialising in workplace and residential developments. Jason's focus for EPR Architects is to continually, drive an innovative approach to design through internal design reviews, achieving exemplar schemes that respond to both the individual context and the built environment. Jason is responsible for a number of significant projects including the re-modelling of St Georges House the former Nestle UK & Ireland Headquarters, Croydon, and the flagship headquarters building for Jacobs Engineering at Winnersh Triangle. Jason is currently Chair of the BCO Next Gen Committee; the committee's role is to champion and foster a new generation of up and coming professionals in the office sector to be at the forefront of commercial design. Jason mentors Part 1 and Part 2 architecture students, passing on his passion for architectural education and his belief in the role of the Architect in creating meaningful places and spaces. Jason is also a BCO Main Board Member and a BCO Judge for the South West and Expert Assessor for the New London Architecture Awards
top
Mark Bergin - Experience Design

Founder & CEO, DRIVENxDESIGN
Courage is the root of all creative projects, courage of the sponsor, courage of the project team and courage of the creative team. design100 celebrates courage through 11 design awards programs. All programs are marketplace centric and offer an opportunity to recognise those that are defining tomorrow. When I'm not advocating or celebrating design, I work as an adviser to projects on the client side, providing expert input on how to structure projects, develop creative ideas and engage the best of market suppliers to deliver exceptional project outcomes. At the heart of my work is a focus on experience design. Always with one simple question - are we making something that is Made for People? Specialties: creative direction, experience design, project guidance, project direction
top
Chris Castle - Commercial and Sustainability

Managing Director, EPR
Chris became Managing Director of award-winning practice EPR Architects in 2015. In this role his primary focus is to ensure that exemplary design quality and delivery continue to be at the heart of every project. Chris joined EPR in 1997 and has extensive experience in designing and delivering large workspace, residential, retail and mixed-use developments. He has developed exceptionally strong design, project leadership and management skills and is qualified as an Architect (RIBA) also having an M.A. in Architecture with distinction, Project Manager (MAPM) and has an MBA in Real Estate in which he graduated top of his year. Chris has a particular interest in sustainability stretching back to 1994 when his design for a naturally ventilated library was presented to the PLEA conference 'Architecture at the Extremes'. He established EPR's Sustainability Working Group and he continues to promote sustainable best practice throughout the firm. Chris is responsible for an impressive array of award winning buildings, including the Ram Brewery development for Greenland Group (previously for Minerva and Delancey), 100 Cheapside for Quadrant Estates, York House for British Land, One John Street for American Express in Brighton and Winnersh Triangle for Patrizia (previously for SEGRO). These projects have evolved from a commitment to deliver sustainable, contextual buildings and places which balance art, functionality and commercial success. Chris is currently a member of the Wandsworth Design Review Panel and is a judge for the World Architecture News Awards.
top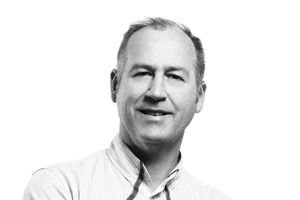 Passionate about design in all its facets, he has engaged with many areas of design culture during his career. He established his versatile industrial design consultancy Charlwood Design in 1993, and has since developed a reputation among clients and peers for his innovative, simple yet elegant design solutions for consumer, medical and capital applications. Consequently, the consultancy has collected a raft of design prizes and accolades, among them multiple Premier's Design Awards, 'Gold' at NeoCon, and a Good Design Award from the Chicago Athenaeum and Australian International Design Award, as well as being admitted to the Australian Manufacturing Hall of Fame. Perhaps the most visible Charlwood Design creations were the Queen's Baton for the 2006 Commonwealth Games. Always eager to support Australia's design culture, Paul has been state President of the Design Institute of Australia and Director, where he co-authored the DIA education policy and contributed to policy and strategy for industry and government. In 2006, he founded the 'best-selling' Melbourne Design Guide, a 350 book on local design culture and Sydney Design Guide, and has been a key driving force in establishing the Design for Sustainability working group and the Greenfly lifecycle online tool. His design work has been featured in the National Design Triennial: Why Design Now? The Smithsonian Institution's Cooper-Hewitt National Design Museum, New York.
top
Caroline Collett - PR & marketing for creative industries

Founder, Caroline Collett PR Ltd
Caroline Collett is one of the UK's leading creative industries' publicists and media strategists. She specialises in turning companies - most often design and architecture studios - into brands, adding the requisite three-dimensionality associated with strong and enduring identities - from personality and individuality to a set of recognisable values, standards, ideas and achievements. After five years as a television journalist and director, Caroline started working in design in 1993 as the PR Director of Fitch worldwide (under the direction of the charismatic design visionary Rodney Fitch) and has since represented some of the biggest and most creative names in the field - Seymourpowell, Brinkworth, MET Studio, SHH, EDGE and Blacksheep. Caroline - an Oxford University MA - is also a leading copywriter and has turned her skills to name generation for products and venues, as well as copy for brochures, newsletters, articles, speeches and award-winning websites.
top
Dhaval Gore -

Head of Developed Markets – Asia Pacific, London & Partners
Dhaval has considerable experience in the area of business support, inward investment and business development. He has an established reputation in assisting clients across a wide range of areas and generally problem solving, connecting, facilitating and enabling. In his role at London & Partners, Dhaval manages a mixed portfolio of inward investment and expansion projects from inception to completion from Asia Pacific primarily Australasia, South Korea, Japan, Malaysia and Singapore.
top
Andy Howell

Creative Director & Founder, The Clearing
Andy Howell is co founder of The Clearing with three co-directors established in 2010. He came to that point in his career after 7 years at Interbrand, moving up from Design Director to Executive Creative Director, and 4 years at Wolff Olins, where the last position he held was Senior Designer. During his career Andy has worked with some of the world's most iconic brands: British Airways, Telefonica, McLaren, The National Lottery, Orange, V&A and Warner Bros to name but a few.
top
David Keech

Managing Director, Keechdesign UK Ltd
David Keech is founder of Keechdesign, whose multidisciplinary approach reflects his interests in industrial design, architecture, furniture and environments. He graduated from the Royal College of Art in 1989. David was the first non-Japanese designer to join Yamaha's creative team in Hamamatsu and produced a number of ground-breaking designs in their music equipment and consumer product sectors. He was a key force in the internationalisation of Yamaha's design team. Before working in Japan, David was an Associate at Foster & Partners, joining as a member of the Bilbao Metro project team. He was one of the founder members of F&P's in-house product design team, gaining deep experience in architecture, product design and project management. He also worked on several personal projects for Norman Foster, for both his private use and bespoke development. David is also a Senior Visiting Tutor and Project Leader on the Innovation Design Engineering course at the Royal College of Art, a visiting Project Leader at KLC School of Design. He is passionate about design, art, technology, making and manufacturing.
top
William Knight

Show Director, 100% Design & Clerkenwell Design
William Knight is a design campign director currently running the UK's biggest contemporary design trade event, 100% Design (September) and one of Europe's most vibrant design festivals; Clerkenwell Design Week (May).William has spent eight years establishing the London Design Festival as one of the world's most important design events. William is able to deliver both practical and strategic approaches to a the a spectrum of challenges and opportunities. Communication led partnerships have helped him develop a series of new initiatives across the UK design industry, with a commitment to excellence and innovation, and the preservation of good ideas.
top
Brendan Lewis

Managing Director, London & Partners

Brendan Lewis has setup greenfield professional services businesses around the globe – Investing in South Korea, Vietnam, Indonesia, Hong Kong and Romania. He also has extensive commercial experience in the UK & the US. His background includes qualifications in accounting and IT and his industry experience includes; Oil & Gas, ICT, Product Distribution, Engineering, Internet & Advertising. Well known for his commercial insight and extraordinary network, he also chairs the Churchill Club in Melbourne and runs Ministerial Dinners. As the sole representative of London in Australia for investment attraction, he personally generates up to 46 new investment projects per annum.
top
Dan Porter

Creative Director, Scriberia
Dan is the co-founder and creative director of Scriberia, Europe's leading Graphic Facilitation company. A wide range of organisations, from multinational corporations to charities, find that Sciberia's work helps them to discuss, innovate and communicate more effectively. We work live, listening to conversations and presentations and summarising them as memorable visuals. We also apply those same rapid visualisation skills to create short animations. Dan started out as a writer that could draw and now, he supposes, is a drawer that can write. Either way, he thinks he's found a place between words and pictures where he can do good work. Scriberia is a constantly evolving and surprising entity. As their list of clients continues to diversify, they can go from visualising the manufacture of chocolate to the treatment of HIV in the course of a day. To Dan Those regular insights into other people's work, the incredible creative freedom he's given, his talented team and amazing business partner keep his job from ever being boring.
top
Jordan Waid

VP, Experience Design International, Freeman XP
Jordan's passion lies in creating compelling stories and satisfying the need to invent everything – new scenarios, new concepts, new rules, and new ways of thinking. His unique background of architecture, digital media, and film allows him to constantly challenge experiential communication models with fresh ideas that engage at all levels for some of the biggest brands on the planet. An inspired thought leader, Jordan's creative vision, insight, and conceptual thinking starts and ends with a user-centric approach.
top
Pascal Wensink is a Director at award-winning practice EPR Architects designing a diverse range of buildings from bespoke one off houses to workplace and mixed-use developments. Pascal is a Chartered Architect (RIBA), who studied at Kingston University, Delft Technical University and South Bank University where he won the 1993 South London Society of Architects Award. He worked for several architectural practices in the UK and abroad and ran his own design studio in London before joining EPR Architects in 1995. Pascal is responsible for one of London's most significant regeneration projects, the Ram Brewery in Wandsworth. The masterplan will preserves the strong brewing heritage of the historic site and create a new urban quarter in the heart of Wandsworth. Pascal has worked closely with Open City to increase the prominence of architecture on the national curriculum. He is a judge for the 'What House' and 'Homes Overseas' Awards, a Civic Trust assessor and a judge for the World Architectural News awards.
top